FRESH & TASTY
Auckland Glass Bottled Fresh Milk Delivery
Kelsey Lane Creamery is bringing back the good ol' days - fresh delicious milk in glass bottles delivered straight to your door. Our glass bottled milk delivery service is the first of its kind in Aotearoa, giving Kiwis all the goodness of farm fresh milk delivered chilled by your local Milkman!
ORDER NOW
HOW WE WORK
Here is how we deliver your glass bottled fresh milk
Step 1
Choose how much and how often
Step 2
Get it delivered to your door, fresh
Step 3
Rinse and leave out your empty bottles for replacement
ABOUT US
Who is Kelsey Lane Creamery
Our aim is deliver Aucklanders with premium quality fresh milk through our sustainable milk delivery program which uses reusable glass bottles.
We were determined to deliver Kiwis the best possible glass bottled fresh milk. That's why we only use happy cows to naturally produce our milk. Roaming free on a sustainable farm in the kaipaki(Waikato) our girls are well-cared for (they even listen to classical music when they're milked). Then we bottle this fresh as creamy milk into glass bottles and send it straight to your door.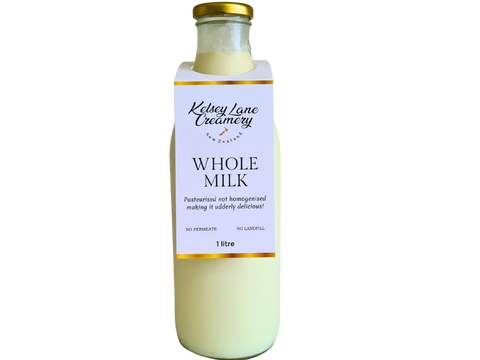 A GLASS BOTTLE OF
Fresh Milk 1L Glass Bottle
Taste the richness of our deliciously fresh Whole milk that combines the goodness of normal milk and richness of cream, delivered to your doorstep in glass bottles.
1 Bottle = 1 Litre of goodness
Ingredients = fresh pasteurized milk  - non homogenized 
Allergens = dairy product
Storage = below 4 degree
Note: All orders that are captured Monday to Sunday are to be delivered for the week ahead to ensure quality and freshness.